Our Grill Cleaning Services
Our BBQ grill restoration services throughout Phoenix, AZ include inspection, de-greasing, cleaning and restoration.
At heart of the BBQ Cleaning Guru is a commitment to keeping grills of all makes and models looking and working their best. No matter how dirty, rusted or corroded your grill is, our experienced team can restore it to a condition as "close to new' as you could hope to imagine.
Why let your grill rust and corrode due to neglect? Keeping it at its best is as simple as calling the BBQ Cleaning Guru for an appointment that includes: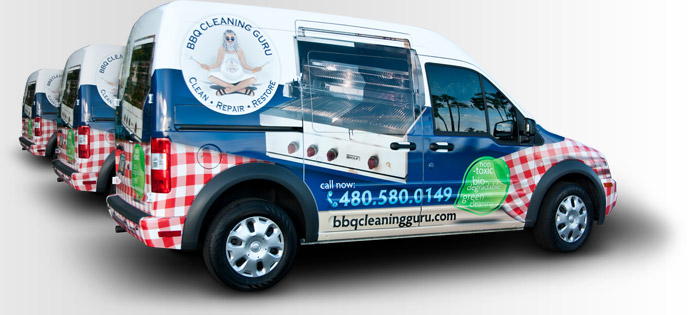 De-Greasing of:
Control Knobs
Pull Out Trays
Drip Pans
Rotisserie Racks
Igniters
Deep Cleaning of:
Grill Racks
Flavorizer Bars
Heat Plate
Inspection of:
Burners
Igniters
Thermometer
Pressure regulators
Venturi Tubes
Cleaning Costs are Based on 3 Main Objectives:
The size of your grill
The age of your grill
The overall appearance of your grill
Repair and Restoration
So many grills sit idle when all they require is the replacement of a single part. A grill that is cared for with replacement parts can offer great performance for years, and our inspection procedure can shine a light on defective parts. We carry a wide variety of parts, and if inspection determines that new parts are needed we can install them in a timely and professional manner.
Don't wait another day to give your grill the cleaning, repair, or restoration it so richly deserves. Call the BBQ Cleaning Guru today.