Before & After Grill Cleaning
Photos and Testimonials for a few of our past BBQ Cleaning projects
At the BBQ Cleaning Guru we believe that seeing is believing, and this applies to the countless cleaning, repair and restoration jobs we've performed for many of your friends and neighbors. Here then are a few "Before and After" photographs of grills we've encountered in less than stellar shape, and the difference a visit from the BBQ Cleaning Guru can make. Enjoy!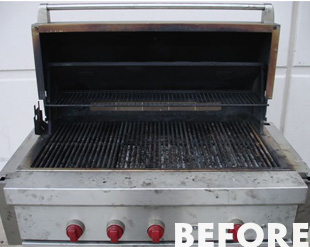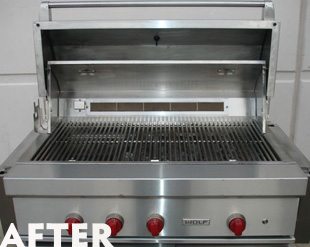 I just wanted to thank you for the work you did on the barbeque from hell. You made us all believers here. Frankly we almost gave up on the grill. Since it really had not been cleaned for some time the burned on grease, grates, briquettes, etc, etc, etc, were too much for us to handle. After you performed your miracle we fired it up that afternoon. You told me that the non-toxic cleaners you use are safe; so we tested it and guess what, you were right there was no residual flavor or smell.
Mike Foley
Builder Sales Manager, SubZero / Wolf
Westye Group Southwest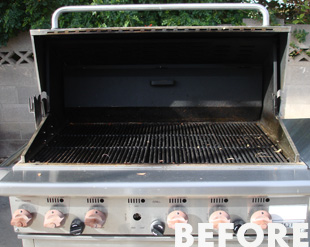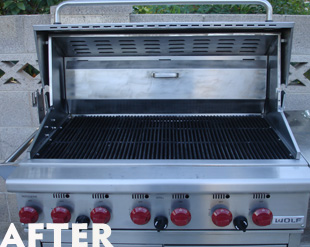 Our Wolf grill is over 8 years old and has been used regularly but never cleaned. Pretty much all of the knobs were inoperable and it was a fire hazard. While looking online I came across the BBQ Cleaning Guru with photos of old Wolf grills made new again. I scheduled an appointment, got a quote and the BBQ Cleaning Guru came out with the needed replacement parts and cleaned my grill with green products. It took them just 6 hours to make my grill a masterpiece again. I would recommend calling BBQ Cleaning Guru if you are considering tossing your old grill. You will spend less money and have the grill you liked in the first place.
Donna E
Phoenix, AZ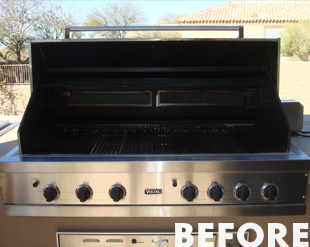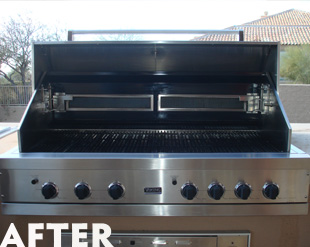 We recently purchased this short sale home, and like much of the house, the built-in Viking grill and two burner cooktop really needed a lot of attention. I actually wondered whether it had ever been cleaned... even a little. The transformation of this very dirty grill into one that looks almost new, was amazing. We look forward to cooking on it, and now won't be embarrassed to have guests see it
Tom S.
Troon North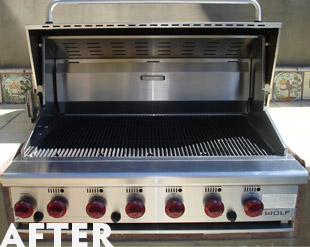 I always try to shop for natural, organic foods. I clean with natural green products. I love that the BBQ Cleaning Guru cleaned my grill with "green" cleaning products. My grill looks new and our grilled foods taste great. I would definitely call them again!
Susan M.
North Scottsdale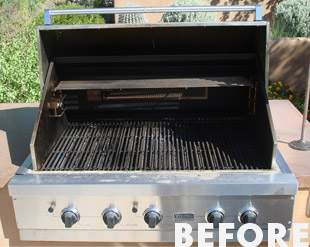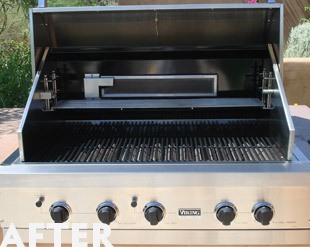 I had only owned my grill for a few years (I use it daily) when the igniter went bad. The thing was dirty and most likely headed for the recycle bin when I came across an ad for the BBQ Cleaning Guru. My concern for the environment led me to notice that they use "green cleaning materials" which sparked my interest into trying them out. The representative was prompt, efficient and did a fantastic job giving my grill a new start. Before thinking your grill is a goner, give the Guru a call. You won't be disappointed.
Bob T.
DC Ranch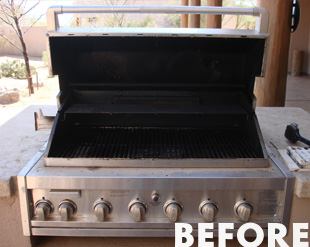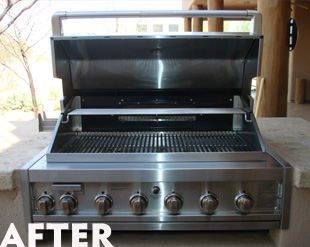 My grill was a mess and very little of it would cook because it was so gunked up. It cleaned up so well, it looks like it is new again. All sides cook evenly and best of all, natural products did the cleaning, so my food won't taste like the cleaners. I called the right company to do the job. Best of all, they called to tell me exactly when to expect them and actually showed up at that time.
Thank you.
Kathy K.
Scottsdale, AZ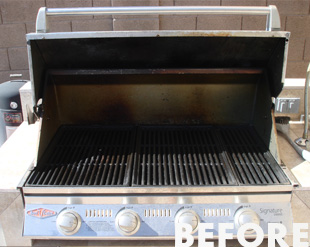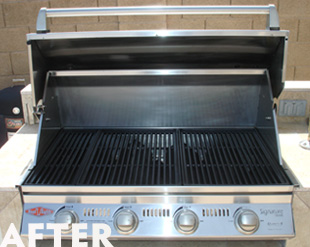 I was beginning to wonder if my 5 year old Beefeater grill was going to have to be replaced. I saw the before and after pictures on the Bbqcleaningguru.com website and decided to give them a go at it. I came home as the guys were finishing up with the cleaning. My first thought was they gave up on my Beefeater and replaced it! Wow! My grill looks fantastic and cooks like it did when it was new. Many thanks for saving my bbq grill.
Burk
Phoenix, AZ