BBQ Installation & Island Design
Barbecue Grill / BBQ Island Design - Outdoor Grill Island / Barbeque Grill Parts
Looking to take your outdoor barbecue grilling area up a few notches? Let the experts at BBQ Cleaning Guru help you in purchasing, designing, installing and maintaining a BBQ grill for plenty of quality cooking and entertaining.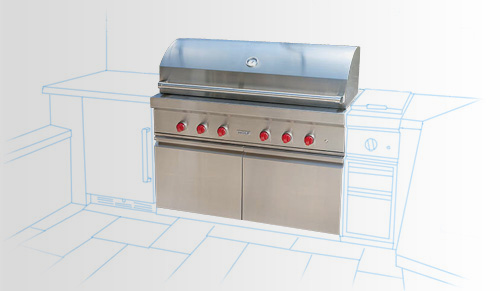 If you take barbequing seriously, your grill is an investment. We can help you invest wisely so that your grill will stand up to many great barbeques. As your BBQ consultant, our expertise can help guide you to the best outdoor grill for your money. We are well versed in a wide variety of high-end, quality BBQ grills and gas grills, including:
Wolf grills
Viking grills
DCS grills
And more!
If you're looking for a customized outdoor kitchen, we can help create a BBQ island design that will fit your space and accommodate all your needs.
After you settle on a grill, we can handle your BBQ installation from start to finish. We'll pick up the grill from the store, properly assemble it, connect and test your gas lines and install your grill. Need an old BBQ grill removed? No problem! We'll remove and recycle your old barbecue grill. We are bonded and insured to ensure a safe and proper barbeque grill installation.
In addition to helping you purchase and install a great BBQ grill, we can help you make sure it stays in great shape with our BBQ grill maintenance services. Regular barbecue grill cleaning and maintenance is key to keeping a grill in top form. We carry a wide variety of barbeque grill parts, including gas grill parts, to keep your grill sizzling for years to come.
As a full-service BBQ consultant, we can assist you with every aspect of getting the best BBQ grill for your lifestyle – from selection to installation to maintenance. Consult with us, and we'll help you discover the barbeque grill of your dreams.